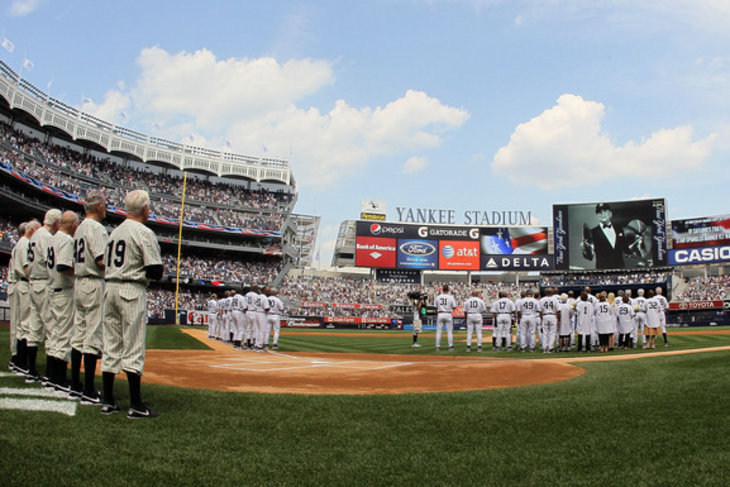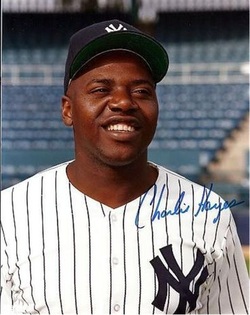 The 67th annual Old-Timers' Day will take place on Sunday, June 23, with ceremonies starting at 11:15 am and the game beginning immediately after. The
Yankees
will then host the
Tampa Bay Rays
at 2:05 pm for the regularly scheduled game.
Yogi Berra, Whitey Ford, Goose Gossage, Rickey Henderson, Reggie Jackson, David Cone, Paul O'Neill and Lou Piniella will be making returns for the festivities.
Among those ex-Yankees that are making their debut are Orlando "El Duque" Hernandez, Brian Dorsett, John Flaherty,
Todd Greene
, Scott Kamieniecki, and
Andy Phillips
. Phillips is only 36 years old, making him younger than
Andy Pettitte
,
Hiroki Kuroda
,
Ichiro Suzuki
,
Lyle Overbay
, and only two months older than
Travis Hafner
.
The Yankees will welcome the widows of five Yankees legends: Arlene Howard, widow of Elston Howard; Helen Hunter, widow of Jim "Catfish" Hunter; Jill Martin, widow of Billy Martin; Diana Munson, widow of Thurman Munson; and Kay Murcer, widow of Bobby Murcer.
Big League Baseball Academy Owner Charlie Hayes will once again be the Yankees lineup. This marks the 4th year that Charlie has attended Old-Timers Day and he is always one of the fan's favorites. Notably known for his catch of the last out in the Yankees 1996 World Series victory, you will find Charlie this weekend spending time with the fans and signing autographs.
We will bring you a complete update after the event. Hit some bombs Charlie! #DeMariniNation #WorkHardPlayHard
Related Article:
http://www.pinstripedbible.com/2013/6/13/4427770/2013-yankees-old-timers-day-attendees-roster-announced