We have been excited and waiting for Team DeMarini - Hayes to start their season and this past weekend they left a lot to be excited about! Team Hayes opened their 2013 season in Cincinnati playing in the Annual 16U Cincy Flames Summer Classic.
After a rained out Thursday to start the tournament, Team DeMarini - Hayes jumped out to an early lead on Huntington Hounds, WV and captured a 9-0 victory in the opening game of pool play on Friday. Seven runs in the first three innings allowed Team DeMarini 17U - Hayes to put the game away early.
Myles Zilinsky
drove in the winning run to give Team DeMarini 17U - Hayes the lead in the sixth inning, as Team DeMarini - Hayes hung on to beat Florence Freedom, KY 6-2 in Game two on Saturday.
Blake Chisolm
struck out 10 hitters en route to the Team DeMarini - Hayes win. Chisolm who sat at 91 mph allowed two earned runs on six hits and two walks over seven innings. "They threw a crafty lefty at us and we scuffled a bit before we were able to get something going" said coach Hayes. "Myles Zilinsky gave us some breathing room with a bases clearing triple which give us some distance".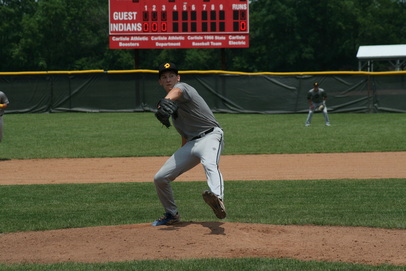 In game three of pool play Team DeMarini - Hayes refused to relinquish the lead after grabbing it early against the North Shore Nationals, OH, recording an 8-0 victory on Saturday afternoon at Cincinnati, OH. With six runs in the first three innings, Team DeMarini - Hayes left no doubt about the eventual outcome.

Team Hayes would win their pool going 3-0 while allowing only 2 runs and scoring 23 in the three pool play games. Falling to the 4th seed in the Championship bracket, Team Hayes new they had themselves a game when they saw the 20th seed Lids Indiana Bulls show up to play in the first round Saturday night.

"Yes I have played this team before and they are a good team with a lot of talent. This is going to be a good game tonight, the Championship Game" said coach Hayes. And that is exactly what it was late Saturday night as the Bulls threw their Ace Bryan Hoeing and Team DeMarini threw Hard throwing Zach Shirey from Springs, TX in what turned out to be a pitchers duel to the end.

After the game coach Hayes said, "This was a good game tonight both pitchers were sitting 91mph and in the end it came down to who made the most errors. We made two and they made one in our 2-1 loss. I like playing these teams and with my Name on this team we are always going to see everyone's best pitcher so you better get use to it. That's the way we want it!. We have a very talented group of ball players from three different states and the interest in our team is huge right now. I talking with college coaches everyday as well as all my professional contacts from playing 15 years in the major leagues" added coach Hayes.

With the 2013 season officially underway the team get's ready to depart for what will be a 25 day road trip. Team Hayes will start the trip at Vanderbilt for the 17U Music City Classic and then head straight to Atlanta for two weeks to play in the Perfect Game 17U and 16U WWBA National Championships. You can always follow us here or on Twitter and Game Changer.