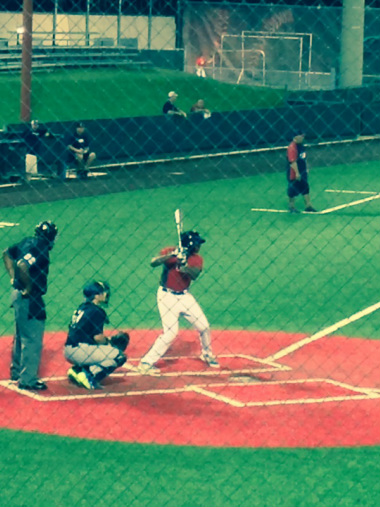 HOUSTON - On a day full of evaluation and situational work, the fourth game of the 18U National Team Trials Red-Blue series ended in a 3-3 tie on Wednesday evening at Cougar Field on the campus of the University of Houston.

The 18U National Team Trials will conclude on Thursday. The 40 players will go through a workout at 1 p.m. ET/12 p.m. CT before the fifth and final game of the Red-Blue series at 7:45 p.m. ET/6:45 p.m. CT. Both will take place at Cougar Field.

"We tried to get some guys into different spots today," USA Baseball 18U National Team manager Andy Stankiewicz said. "We are always trying to find as much versatility as we can because of the small roster. We put some guys in some spots that they aren't used to and they probably felt a little uncomfortable but, in the game of baseball and athletics, you have to learn how to be comfortable when you are uncomfortable. We are trying to challenge them a little bit because when we get to this 20, if somebody gets hurt or a little banged up, we are going to have to put some guys in some spots that they aren't used to.

"Tomorrow we are just going to let them play. We are going to get them back to their positions and give them a last shot to play their game. It was nice to see some guys get some base-hit bunts down because that is their game. When they got here they wanted to show something and do a little more than what their game is. I think they are starting to feel a little more comfortable in who they are as a ballplayer and, whatever skill they have, they are using it. We are just going to challenge them to do the same thing tomorrow."

Ke'Bryan Hayes (Tomball, Texas) was the top offensive performer on Wednesday, driving in all three of the Red team's runs with a sacrifice fly, an RBI single and a bases-loaded walk in his three plate appearances. Blake Rutherford (Simi Valley, Calif.) also had a solid day, finishing with a single, a walk and two runs scored.

On the mound, Luken Baker (Spring, Texas) started for the Blue squad and fired three innings of one-run ball, allowing just one hit. Red team starter Justin Hooper (San Ramon, Calif.) struck out three in three frames of work, yielding two runs - one earned - on three hits.

For the second day in a row, the coaches implemented an international tiebreaker situation at the end of the game. Trailing 3-2, the Red team came up to bat first with runners on first and second and nobody out. It would take advantage of the opportunity and tie the game with a hit batter and a bases-loaded walk by Hayes.

The Blue squad opted to lay down a bunt in its turn at the plate. The Red unit tried to get the force out at third on the play but the throw was late so it found itself in a bases-loaded, no-outs jam. Relief pitcher Austin Bergner (Windermere, Fla.) escaped unscathed though, getting a force out at the plate on a chopper to third before inducing a game-ending double play to ensure the tie.



"Any time we get a chance to practice the international tiebreaker we are going to do it because it is new to the coaching staff as well. We are trying to figure out some strategy and how to go about that, so it was good to be able to do that again tonight as well."



Follow the 18U National Team throughout trials and during international play by visiting USABaseball.com or by following @USABaseball18U on Twitter.