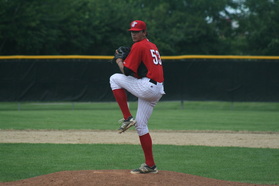 Congrats to BLBA DeMarini Hayes "Tyler Paulsen" Minooka HS 2015 on his commitment to Illinois State. The 2-Way 6'5" player comes down to where you like him best? Tyler played outfield and pitcher for Team DeMarini Hayes this summer and is playing pitcher and 1st base this fall for the Reds Scout Team.

"Tyler is a great kid that plays the game hard. He is always trying to make something happen and and listens to instruction well. He did a great job for us this summer both in the outfield and on the mound" said coach Hayes.

We will get a chance to see Tyler some more this fall as he is on the Reds Scout Team with other Team Hayes members. Tyler is just one of many players on team Hayes that will be in Jupiter this fall.