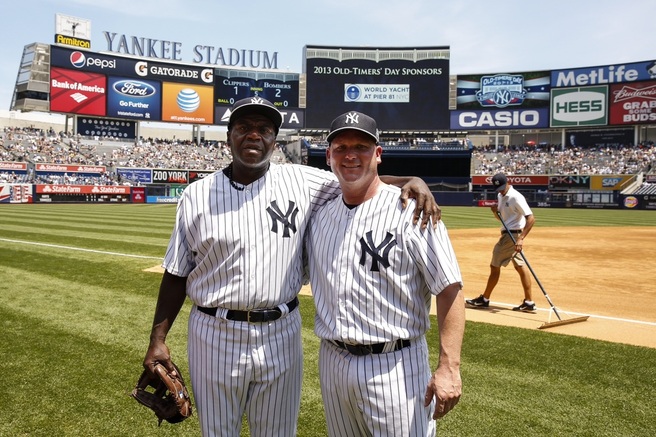 Old-Timers' Day is a thrill for everyone who gets to come back to put on the pinstripes one more time, but it's a big deal to those who do it every day, too - especially the first time. "It's a good circus right now, but it's amazing to honor the Old-Timers and the great legacy and tradition they have built here," said rookie hurler Preston Claiborne. "Seeing all the years they put in, it makes you want to go out and perform well yourself. You see the love they get from the fans, and the way that they're honored by the organization, it's quite impressive."

Team DeMarini would like to congratulate and is proud to have two of their fine National High School coaches present at the 67th annual Yankees Old-Timers Day. Charlie Hayes, owner of Big League Baseball Academy in Tomball, TX and Todd Greene, owner of Patriot Baseball Academy in Johns Creek, GA.

Coach Hayes runs a Team DeMarini National 17U team with players from, Illinois, Texas and Tennessee in addition to the other teams at his Big League Baseball Academy. Coach Green runs Team DeMarini Georgia out of his Patriot Baseball Academy in Johns Creek, GA. Todd has a total of 13 DeMarini teams in his organization.