Charlie Hayes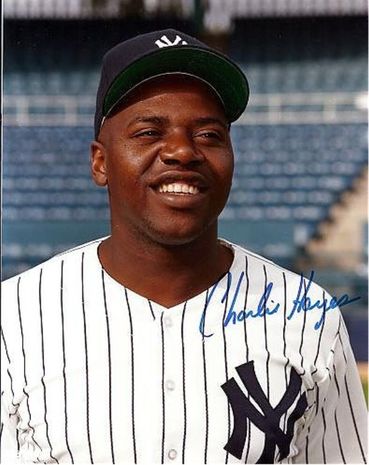 If you understand how Charlie Hayes feels baseball helped him, you'll understand why Charlie works so hard to help kids learn the great game of baseball. Charlie was drafted straight out of high school by the San Francisco Giants. Growing up, baseball gave Charlie a chance to learn and develop into the person that he is today. Charlie was actually drafted as a pitcher and while in the Pioneer Rookie League he quickly moved over to third base and outfield. In Charlie's 14 Major League seasons he mostly anchored 3rd base, but was versatile enough to play just about every other position on the field.

But don't think that Charlie went straight to the top. He got his education in baseball by putting seven seasons in the minors before getting his chance at the Show (the MLB). After being called up in September of 1988, Charlie started the next season back with the AAA Phoenix Firebirds. But Charlie would not stay down much longer. The powers that be had him on the move to Philadelphia to take over for retiring Mike Schmidt. The Phillies struggled that year finishing 6th in the National League East. And as many teams do when they don't win, they began to trade and sell off talent. Charlie found himself back with the Giants in 1989. Over the following seasons, Charlie went between the Giants, Phillies and Rockies before landing with a team that would take him to the pinnacle of his career, being on a team that would win the World Series. 1996 brought Charlie to the "city that never sleeps", New York City. That first year in New York, the Yankees' manager, Joe Torre had Charlie sharing time at 3rd base with Wade Boggs. In the sixth and final game of the World Series against the Atlanta Braves, Torre had Boggs starting at 3rd, but Charlie finished out the game at 3rd base in grand style. In the 9th inning the Yankees were leading, 3-2. With two outs and the tying run on second, Braves 2nd baseman Mark Lemke popped up to third base. Charlie shifted over toward the fans in the 3rd baseline seats and caught the ball for the final out of the 1996 World Series! In a 2008 interview by the New York Daily News, manager Joe Torre describes Charlie Hayes' catch as his favorite moment in Yankee Stadium. I think Charlie would say that was his favorite moment too!

Charlie spent another season with the Yankees playing with the likes of Derek Jeter and Joe Girardi before being traded again to San Francisco, Milwaukee and finally ending his career with the Houston Astros in 2001.

But the story doesn't end there, after all Charlie retired at the young age of 36. With the help of other former pros, Charlie has lead the development of a school for baseball, Big League Baseball Academy. During the baseball season, you'll still find Charlie at BLBA almost every day teaching the younger generation of players the tools that helped him in 21 seasons as a professional baseball player.
---
---
Tyree Hayes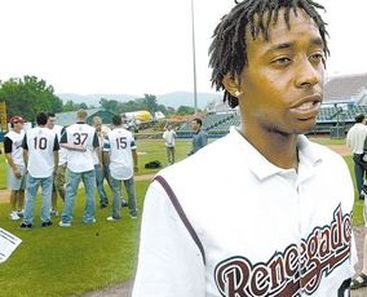 Bats:
Right,
Throws:
Right
Height:
6' 0",
Weight:
175 lb.
High School:
Tomball (Tomball, Texas)
Born
:
August 8, 1988 in Mesa, Arizona, US
Drafted
by the
Tampa Bay Devil Rays
in the
8th round
of the 2006 MLB June Amateur Draft.
Awards/Honors:
NYP Pitcher of the Week, 08/11/2008
Was the Rays' eighth-round pick in the June 2006 First-Year Player Draft. ... Worked to a 0.84 ERA with a 9-1 record as a senior at Tomball (TX) High School. Son of former Major League infielder Charlie Hayes.
Highlights:
Started 12 games for Class A short-season Hudson Valley where he went 4-6 with a 3.57 ERA. Struck out 46 in 71 2/3 innings pitched. Gave up four hits and struck out six during a complete-game shutout at Lowell Aug. 10. Went 4-7 with a 4.64 ERA for Princeton. First in the Appalachian League in starts (13). Second in earned runs (34). Fourth in hits (73). Third in losses (7). Started seven games for Princeton in the Appalachian League, going 3-1 with a 2.48 ERA. Struck out 26 in 40 innings. Pitched the team's only shutout and complete game at Johnson City on Aug. 4. Did not allow a run in his first 5 appearances (19 IP) with Princeton (3 starts). Tossed a complete-game, 7-inning, 2-hitter on Aug 4 at Johnson City.
---